State-of-the-Art Engineered Hardwood in Tacoma, WA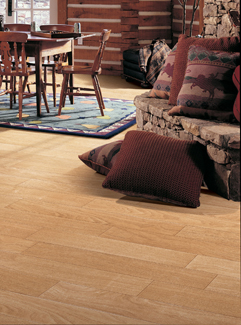 Hardwood flooring is one of the most popular styles of flooring available and has been for centuries. That doesn't mean it can't be improved upon, however. Introducing engineered hardwood in Tacoma, WA, from The Floor Trader of Tacoma.
Made from the same real wood that makes solid hardwood so enticing, engineered wood flooring is processed in a unique way to make it less likely to be affected by changes in moisture and temperature. Our flooring store wants to show you just how beneficial an engineered hardwood installation can be for your property.
Creating Engineered Wood Flooring
Engineered hardwood is pressure treated to form a super strong and durable surface that has very high stability, even in the face of moisture, humidity, and fluctuating temperatures. This helps to reduce the risk of rippling and buckling that solid hardwood could have when placed in such locations as kitchens, bathrooms, or basements.
Engineered planks give you the same warm and inviting atmosphere you expect from a solid hardwood floor, but with a number of perks you are going to love. They can be installed over almost any type of subfloor, including concrete, so you can have the wood floor you want exactly where you want it.
We carry all of the best brands in the industry to ensure that any engineered wood floor you buy is going to deliver to your expectations. Not only that, but the cost of this amazing surface is also very competitive. You won't have to break the bank to get the right floor for your space.
Ease of Installation for Engineered Hardwood
Installing and maintaining your new engineered wood flooring is easy thanks to its unique design. An engineered hardwood installation can be performed many different ways by a team of trained professionals, which allows for a simple installation with a quick project time.
Remember, installation is almost, if not just as, important as picking out the right style of flooring for your space. An improperly installed floor can end up costing you a lot of money in the future due to repairs and replacements. When you work with our engineered hardwood installation team, however, you can rest easy knowing that your floor was installed the right way for optimal performance.
Maintenance is also no problem when it comes to your properly installed engineered wood floor. You can clean your surfaces with a simple cloth and regular sweeping to ensure they continue to look their very best well into the future.
---
Contact us when you are looking for hardwood flooring engineered to last. Our engineered hardwood products and services are perfect for customers located throughout the Tacoma, Washington, area.