Hardwood Flooring in Tacoma, WA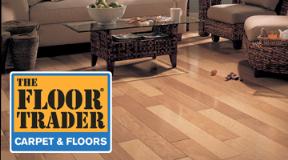 Every home or business needs a dependable flooring foundation. With the attractive and stylish varieties of hardwood flooring in Tacoma that we have available, you won't have to search very far for what you prefer. At Floor Trader of Tacoma, we present you with top-of-the-line hardwood floor styles that may make your decision an easy one—and you can look forward to saving!
When you visit retail flooring stores and scan through their offerings, your biggest concern is usually the price. Can you afford the hardwood floors that you want and will the investment be worth it? The answer to both questions will always be "yes" when you make us your first choice! We have partnered with many manufacturers around the world to provide you with the highest quality of beautiful hardwood flooring. We have leading hardwood floor brands in our inventory, including Shaw®, Mohawk® and Armstrong®—all glosses, stains and finishes available!
Count On Us for Discounted Hardwood Floors
Floor Trader of Tacoma is locally owned and operated, which means that we know what our customers want. We don't break your bank with outrageous prices. The savings come right to you as we offer new, discount hardwood floors in Tacoma with a minimum of 20% and maximum of 70% off!
Incredible deals keep our customers satisfied and coming back any time they are shopping for hardwood floors in Tacoma at discounted rates. Styles include:
Oak
Prefinished
Engineered
Solid
Bamboo
Exotic
Cherry
Hickory
Maple
Pine
Affordability and quality go hand in hand at our factory-direct flooring company. Hardwood floors are stunning and attractive, and they offer the superior strength you need in a flooring surface for active home lifestyles and busy offices. We make the process plain and quick by presenting our discount hardwood flooring styles in a neat and organized fashion. Our flooring associates are ready to assist you with your purchase.
---
Floor Trader of Tacoma proudly serves clients in surrounding Tacoma areas. Come in today to look through our wide selection of hardwood flooring types. Low prices are always guaranteed on our fully discounted flooring options!