Upgrade Your Floors to Durable Laminate Flooring
Laminate flooring is perfect for homeowners looking for durable, affordable, and stylish hard surface flooring. Whether you are renovating one room in your home or the entire place, laminate flooring is an excellent choice for any room. At The Floor Trader of Tacoma, we offer a wide range of laminate flooring options that will meet your unique needs in terms of performance, style, and budget. We proudly carry laminate wood flooring and laminate tile flooring, which are great solutions when looking for attractive home options. Built strong, laminate floors are made to last thanks to their tough external layer and resin coating. If your home or business gets a lot of foot traffic or has kids or pets, this flooring option can protect against a lot of wear and tear. Stop by our showroom in Tacoma, WA, today and work with one of our flooring experts to find your perfect laminate flooring.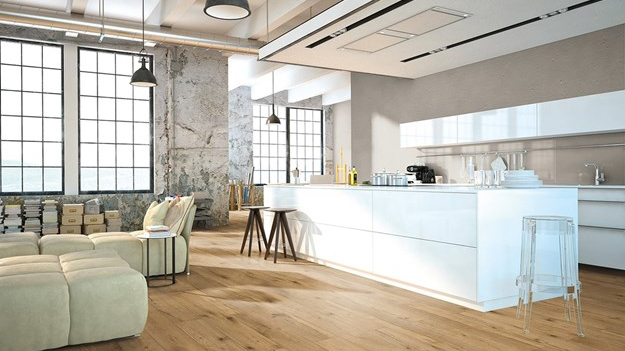 Laminate Flooring Types
Laminate flooring is a popular choice for homeowners and business owners due to its easy maintenance, durability, and affordability. There are two main types of laminate flooring: laminate wood flooring and laminate tile flooring. Learn more about these laminate types:
Laminate wood flooring is designed to mimic the look of genuine hardwood flooring without the high cost and maintenance requirements. It's made from a high-density fiberboard core covered with a photographic layer of wood grain, topped with a protective wear layer. Laminate wood flooring comes in various colors and styles, including traditional oak, hickory, and maple, as well as more modern options like gray and white-washed finishes.

Laminate tile flooring is designed to look like tile or stone flooring. It's also made from a high-density fiberboard core, but it's covered with a photographic layer that mimics the look of ceramic or stone. Laminate tile flooring is available in varying sizes and patterns.
The Many Advantages of Laminate Flooring
Laminate has many amazing benefits besides being durable and cost-effective. Many Tacoma homeowners and business owners choose laminate flooring because it is:
Resistant to

moisture

,

scratches

, and

stains

.

Easy to install

, with click-and-lock or glue-down options.

Available in

various colors and styles

, including wood, tile, and stone.

Low maintenance

, requiring only regular sweeping and occasional damp mopping to keep it clean.

Hypoallergenic

, as it does not trap dust or pet dander.

Suitable for use with

underfloor heating systems

.

Can be installed over most existing floors

, including concrete, wood, and vinyl.

Long-lasting

.
Maintaining Laminate Floors
Maintaining laminate flooring is easy and requires only a few simple steps. Regular cleaning will help keep these floors looking brand new for years. Following these simple steps, you can keep your new laminate floors looking beautiful:
Sweep or vacuum your floors regularly to remove dirt, dust, and debris.

Use a damp mop with a mild cleaner to clean up spills or stains.

Avoid using abrasive cleaners or harsh chemicals that can damage the protective wear layer.

Place mats or rugs in high-traffic areas to prevent scratches as well as dirt and debris from being tracked in.

Use furniture pads to prevent dents or scratches from heavy furniture.

Wipe up spills immediately to prevent water damage or warping.

Avoid exposing laminate to excessive amounts of moisture or water, as this can cause swelling or separation of the planks or tiles.
Professional Laminate Flooring Installation
A very versatile flooring option, laminate indeed shows you just how good of an investment it is when you have it installed by trained and skilled professionals. Our laminate flooring installation services ensure that your new flooring is installed the right way the first time so you can enjoy all of the benefits of your new floor. Our network of professional technicians has a proven track record of expertise with no hidden charges. As a Floor Trader customer, you can get several quotes before making an informed decision.


Contact us when you are interested in learning more about what our laminate flooring can do for you. Laminate floors are a perfect option for clients located throughout the Tacoma, Washington, area.