The Best Selection of Affordable Luxury Vinyl Flooring
Do you long for a way to breathe new life into your interior atmosphere? Fit any part of your home with all-new luxury vinyl floors. When local homeowners are looking for luxury vinyl flooring, they know to turn to The Floor Trader of Tacoma for premium floors. Whether you're looking to update your bathroom, bedroom, or kitchen, you will find a quality product you love when you peruse our expansive showroom in Tacoma, WA. Our luxury vinyl tile collection offers a wide variety of options that fit in nearly any part of your home. Stop by our showroom to speak with our knowledgeable staff members to discover all of the possibilities that await.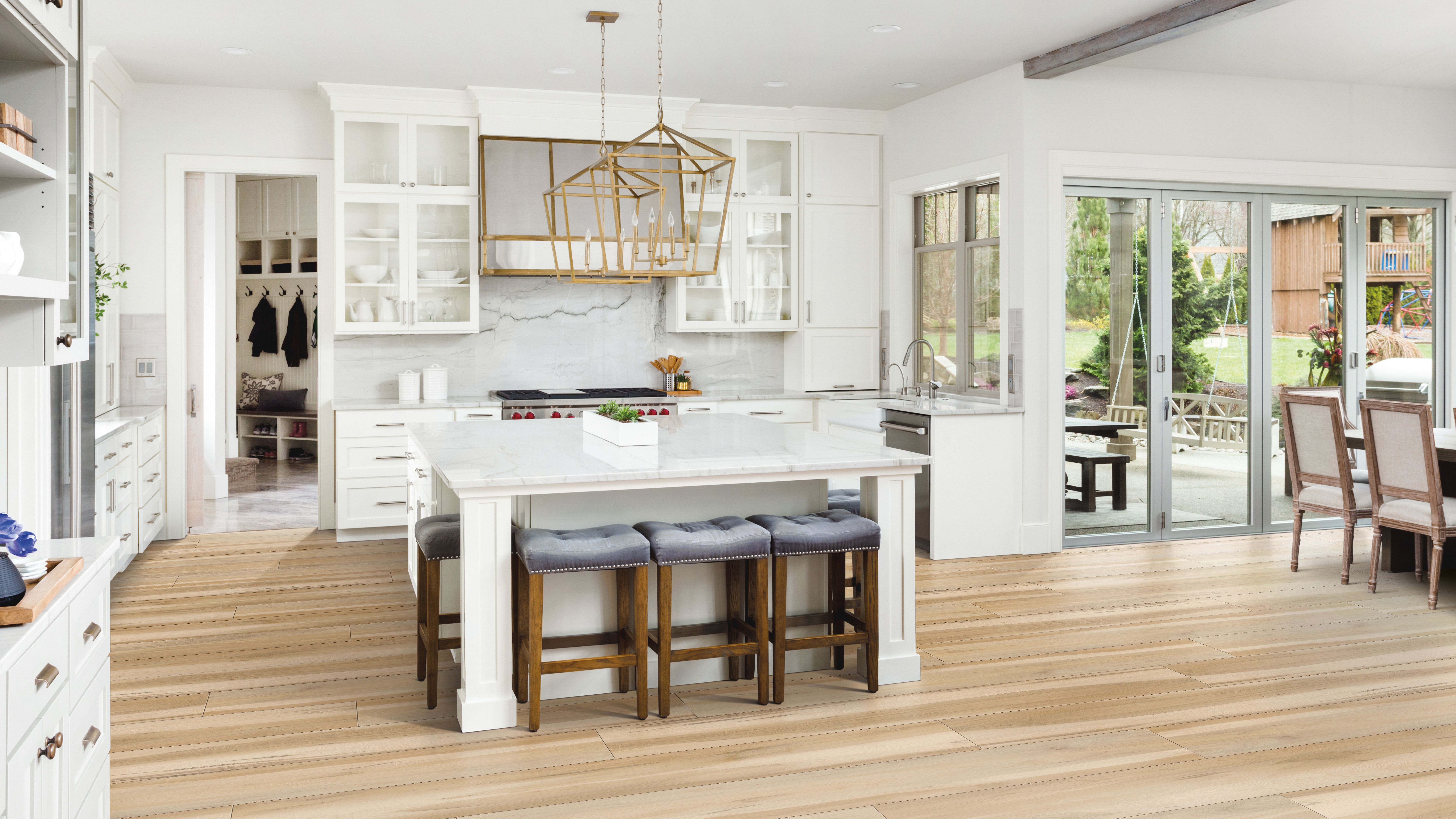 Types of Luxury Vinyl Flooring
There are two types of luxury vinyl, luxury vinyl plank (LVP) and luxury vinyl tile (LVT). These high-performance materials are exceptionally resilient due to their layered compositions. Either vinyl flooring type is made from several wear layers beneath a resistant vinyl surface designed to stand up strong to even the heaviest foot traffic. Learn more about our luxury vinyl selection:
LVP

is a budget-friendly hardwood alternative made using advanced photographic technology that results in beautiful decorative layers with

authentic-looking

grain and whirl patterns that replicate your favorite types of hardwood.

LVT

mimics the look of porcelain, ceramic, and natural stone tile. Still, it is a comfier,

softer underfoot

alternative and ideal for bathrooms, kitchens, and other high-moisture areas of your home.
A Durable Waterproof Flooring Solution
Homeowners dream of adding the look of hardwood or tile to their homes, but while these materials are a popular choice, they may not be a good fit for every room in your home. Bathrooms, basements, and other moisture-prone areas require durable flooring. When you choose waterproof luxury vinyl flooring, you are choosing flooring that is stain-resistant, moisture-resistant, scratch-resistant, and it even avoids warping. No matter what part of your home you want to install luxury vinyl flooring in, you will surely find something that will transform your space and that you will love when you shop with us. From kitchens to bedrooms, our luxury vinyl selection is perfect for every type of space.
The Ease of Luxury Vinyl
Our luxury vinyl flooring is strong enough to withstand a great deal of wear and tear, making it the perfect flooring choice for active families with pets and children. Luxury vinyl is a waterproof flooring solution that can resist high-moisture environments like bathrooms and laundry rooms. Spills and liquids are no match for luxury vinyl, which makes for a no-stress cleaning. Regular cleaning can be performed by vacuuming, mopping, or sweeping weekly. Before using a cleaning product containing harsh chemicals that could damage your new luxury vinyl floors, we recommend reviewing your new floor's warranty.
Professional Luxury Vinyl Installation
Luxury vinyl flooring is one of the most convenient types of flooring and can be installed in any room, including below-grade spaces. Our vinyl brands are wholly waterproof, making luxury vinyl an excellent option for moisture-prone areas like kitchens, bathrooms, and basements. With our beautiful collection of luxury vinyl, you can install wood-look flooring in high-traffic areas of the home without worrying about water damage or stains.
Once you've shopped with us for the perfect flooring choice, you can count on our skilled luxury vinyl tile installation team to lay your flooring solution correctly. Our experienced contractors are always available to deliver full-scale installation services for jobs of all sizes. Rest assured that we'll work quickly and efficiently to ensure every tile or plank is positioned properly, leaving you with a look that's sure to stand the test of time.


Contact our showroom to fit your home with attractive, functional luxury vinyl floors. We proudly serve home and business owners in Tacoma, Washington, and the surrounding areas.