The Place to Go for Wood Look Tile in Tacoma, WA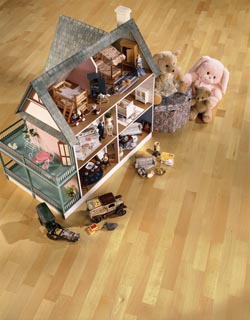 Find the perfect flooring for every room of your house by shopping at The Floor Trader of Tacoma. We're pleased to offer solutions for every flooring challenge you may encounter during construction or renovation. That's why we carry one of the largest collections of wood look tile in Tacoma, WA.
This unique type of tile is designed to replicate the appearance and texture of hardwood while maintaining the water resistance of porcelain and ceramic. It's a great choice for homeowners who want to beautify their kitchens, bathrooms, and other rooms that are frequently exposed to moisture while also increasing the value of their home. Visit our showroom today to see our tile collection in person and discover the ideal surface for your design goals.
Why Wood and Water Don't Work
Wood plank porcelain tile and ceramic tile products were designed to address a simple problem: wood and water don't go together.
Wood is highly porous and naturally absorbent. It sucks in moisture and swells until it finally dries out again and contracts. These minute shifts in mass can damage a hardwood floor over time; since the wood is frequently shifting, gapping can occur between the planks. That is why hardwood is not recommended for the wet areas around the home. Our wood-alternative tile products, however, are perfect for the following places and more:
Kitchens
Bathrooms
Basements
Laundry Rooms
Entryways
Patios
The Perks of Tile
Choosing wood plank ceramic tile or porcelain tile for your room comes with many additional perks. For instance, tile lasts for a very long time. It doesn't require much maintenance beyond sweeping, mopping, and other occasional upkeep like grout cleaning.
Thanks to its natural strength, tile can withstand a great deal of daily wear and tear without losing its good looks. In fact, with the right care, the tile floor you install today will look like new even generations later. Talk to our team members to get specific maintenance recommendations for your preferred ceramic or porcelain wood tile brand.
Tile also provides unique heating and cooling benefits. It stays noticeably cool on hot days, unlike most other flooring styles. In addition, you have the option of installing radiant heating underneath tile for ultimate comfort in the winter. Learn more about these advantages and other tile perks by consulting with our staff.
---
Contact us if you have any additional questions about our wood-alternative tile flooring. We proudly serve clients from throughout Tacoma, Washington, and the surrounding areas.